Salla is the Ski Resort of the Year 2021!
23.9.2021
"On behalf of the entire Salla Ski & Active crew, we can say that we are happy and moved by these news: Salla Ski & Active has been chosen as the Ski Resort of the Year 2021 in Finland!
Our heartfelt thanks for this recognition go to our customers, our staff and the people who have worked for us over the years, our partners and supporters, and everyone who has Salla close to their hearts.
We did this together! "
The following is an excerpt from the news published by the Finnish Ski Center Association on 22 September 2021 on its website. You can read the article in Finnish by opening the Ski.fi website here.
---
"The coveted and prestigious Ski Resort of the Year award has once again been handed out. As last year, the award was only announced this autumn at the annual meeting of the Finnish Ski Center Association due to Covid-19 restrictions. Normally, the prizes are awarded immediately at the end of the season at the association's spring meeting.
The ski resort of the year 2021 is Salla, the local resort of the year is Mielakka and the ski school of the year is Sappee.
The winners were chosen by a jury chaired by Kristiina Hietasaari (Visit Finland – Business Finland), which included representatives of tourism, the media and sports federations. An important tool of the jury was the results of a survey of consumers conducted on the Ski.fi website. More than 4,000 skiers shared their views in the survey.
"Due to the Covid-19 pandemic, the ski resorts did an excellent job in the challenging period 2020–2021 to make health-safe recreation and tourism possible," says Kristiina Hietasaari, chairman of the jury and director of Visit Finland, thanking the entire ski resort industry.
"Now the award-winning centers have not only invested in safety, but also developed their operations in many ways. The work is done with a big heart and we don't just try to meet the wishes of our customers – we want to exceed them, "Kristiina Hietasaari sums up the jury's reasons for the winners.
Salla is responsibly different
Ski Resort of the Year 2021 Salla develops and diversifies services in a sustainable way. Both the jury and the skiers who took part in the survey are fascinated by the atmosphere of Salla, the first-class well-groomed slopes and the cozy service.
Salla is a good example that a ski resort can be continuously developed without the area expanding in an impossible way. In Salla, natural values have been respected and at the same time a diverse and meaningful destination has been developed for skiers. The ski resort also invests heavily in slope safety.
Salla has a unique brand and doesn't try to be one among the big ones. Feedback from consumers reflects the opinions of many: "Salla is clean, calm and well organized. A real gem! "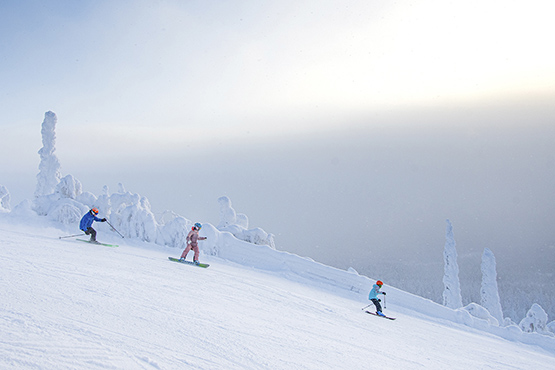 Feedback from the survey: "Salla has great scenery, good slopes and friendly staff."
In The Middle Of Snowhere